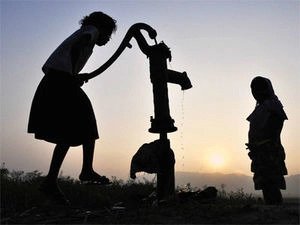 One in every three of the world's malnourished children lives in India. It's one of the country's biggest development challenges. Yet , Indian philanthropy, coaxed and cajoled out of the shadows, and coming into its own in recent years, skirts this issue. As it does to many others.
Indian philanthropy continues to be largely dictated by conversations on 'how much', and it is only lately that issues of impact, measurement and outcomes are beginning to be talked about.
The assumption is that the framework design and strategy of Indian philanthropy is just right, and therefore the leap from 'how much' to execution issues.
A vital bit, the middle, of the three-step philanthropy journey is missing. And it's beginning to skew our $5 billion (about Rs 30,000 crore) or so philanthropy sector that is set to burgeon further if one was to add incremental corporate philanthropy or CSR spends mandated by the government the next financial year onwards.
"Thoughtful up-front choices on 'where to give' and 'how to give' lacks the focus they deserve," says Ramya Venkataraman, leader of the education practice at McKinsey & Co., a consultancy.
She, along with Ramesh Mangaleswaran of the firm's social sector practice, in a recent study titled 'Designing Philanthropy for Impact: Giving to the Biggest Gaps in India', has identified some of the biggest giving gaps in India and endeavoured to find the reasons why.
"Over 90% of present-day donor contribution flow into just about 7-10 sub-sectors of the 50 we examined," says Venkataraman. The duo divided Indian developmental challenges, or areas of relevant donor interest, into 12 sectors and 50 sub-sectors. Of the 10 sub-sectors, eight are in education and healthcare.
Areas Of Neglect
However, even within the wellendowed education sector, there is an aberration. Much of the money is allocated for primary education and higher education, leaving much less for pre-primary, secondary and special-needs education.
Luis Miranda, former chief executive of IDFC Private Equity and now full-time philanthropy evangelist, is anguished at the inexplicable donor disregard for pre-primary education.
"It lays the foundation and, together with nutrition, determines the individual growth trajectory a child takes in later years," he explains.
The Indian scenario and its skews, however, is not very different from global trends in philanthropy, though some countries, notably the
US, do display a greater breadth in terms of sectors addressed. A 2011 survey of US foundation giving, conducted by the Foundation Center, reveals that education (23.3%) and health (22.6%) take a prominent share, but areas like public affairs & society benefit (11.8%) and arts & culture (10.5 %) also attract donor interest, something absent in the Indian context.
In the US, even development and peace, or science and technology, attract sizeable monies. The big gaps in Indian donor interest include entire sub-sectors related to governance, human rights, employment, environment, food & agriculture, arts, culture & heritage (See graphic: The Giving Gap).
The reasons for this skew can be many. Take education. "Many of the HNI (high net worth individuals) donors have had a great education and they realise that it's one single factor that has helped them progress in their lives," explains Dhaval Udani, CEO of GiveIndia, a giving platform. "They also believe it gives them the maximum bang for the buck."
Also, there is still a lot to be done in education and health.
Three Kinds of Gaps
This belief, however, may be misplaced. The McKinsey team crafted a 'philanthropy demand-supply rating framework' and arrived at three different types of gaps: quantity gaps (as already seen in malnutrition), niche gaps and quality gaps.
In the rating framework, primary education, for instance, has a high supply score (8 or above on a possible score of 12).
But in terms of quality, its score is abysmal at 1 or 2 (the lowest possible levels).
So, continued supply of philanthropic monies to primary education, without attempting to correct the underlying causes for the quality gap, only means providing more of the same; more of the mediocre.
The realisation now is that donor attention has therefore got to move towards addressing systemic issues; capacity building, for instance. As for niche gaps, they have low overall demand scores.
Conservation of traditional arts and rehabilitation of prisoners are examples. In the case of special needs education—a population of around 10 million children— this sub-sector, as a niche, attracts a low demand score, but the supply is even lower than this requirement.
While the gaps, to varying extents, exist, both Ramya and Udani feel a shift is indeed happening. As philanthropy in India evolves and matures, the gap challenges may be addressed.
"Only ultra-HNI can begin to address larger issues of systemic or landscape changes," explains Udani.
The risks of failure in this space are high. A bulk of the donors would therefore plod the tried and tested paths, but even among this lot, a small class of innovators are emerging.
Patient Grants
Udani was surprised with his recent engagements with donors, mostly businessmen, in Delhi. "They are willing to take risks and are keen to tap into a higher level of giving," he says.
As for system changing donors, there are the likes of Wipro's Azim Premji, who has had a shot at this by engaging with governments on institutional reforms, and capacity building of various stakeholders in education.
The McKinsey report also dwells on the different modes of donor intervention. Premji, for instance, adopts a prudent mix of direct and indirect methodologies to usher change.
Ramya and Udani also agree that the lack of awareness on the most critical areas and insufficient perspectives on how to drive change are some of the reasons why some sub-sectors are starved of philanthropic monies.
Several intermediaries in philanthropy like GiveIndia, Dasra and Samhita have been spreading awareness on the range and diversity of issues and models of interventions that donors can plug into. The response to recent GiveIndia workshops on livelihoods, skills and employment generation has been encouraging.
As for modes of intervention, the McKinsey study lays out a spectrum of the 'most direct' to 'most indirect'. A direct, category A intervention— like building a school or clinic, directly running operations, or providing mid-day meals—receives 60-65% of donor contributions.
By comparison, category D (most indirect) receives a pittance of 3%. A category D intervention can be long and tortuous, and difficult to measure, but it can bring about changes, through framework and policy changes, that are everlasting, and impacting large swathes of society. It could also mean 'taking on the system', the powers that be, and incurring their wrath.
Although not mentioned in the report, the Right to Information Act (RTI) and the Jan Lokpal movements, which were supported to some extent by Infosys founder NR Narayana Murthy, would be Category D donor intervention. As Indian philanthropy prepares to shift gears, it needs more such interventions.