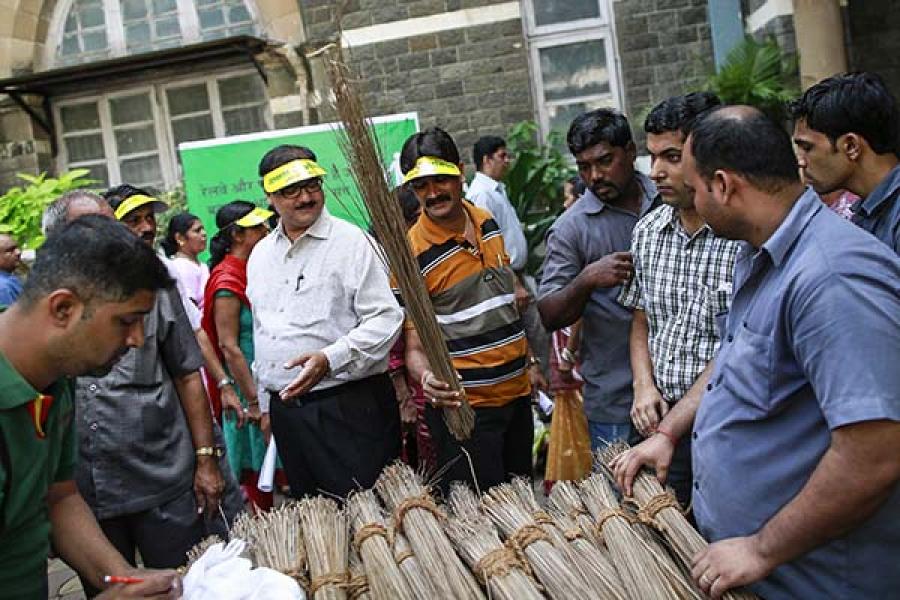 Prime Minister Narendra Modi announced with much fanfare the Swachh Bharat Mission on Gandhi Jayanti last October. The aim is to ensure a Clean India in five years. A lot of staged photos were taken across the country of ministers, celebrities and bureaucrats cleaning streets. What was remarkable is that the new PM told the world that we are a filthy nation and we need to fix it urgently. So far, the previous governments never admitted that we have a serious problem and not much was being done about it on a large scale. A lot of money was being spent, but the impact wasn't much. And Indians want a Swachh Bharat. A recent India Today survey found that 41 percent believed that the initiative was a very good one that will make India cleaner. Twenty-nine percent felt it was a very good idea, but impractical. That's a 70 percent vote for the cause seven months later.
But what's happened so far? Yes, it has only been seven months and the data is still trickling in. The fear is that we will see a repeat of what we have seen over the past decades. Live Mint recently carried an article titled 'Accounting for toilets, but no accountability for sanitation'. The focus has so far mainly been only on building the infrastructure and not much is happening on getting people to use them. Companies are jumping over each other to build toilets and this summer, at any AGMs, chairmen will brag about the number of toilets they have built. This is a great leap forward. However, I have three large fears.
First, we will succumb to the Great India Infrastructure Model – 'Build, Neglect, Rebuild'. The toilets will be built (yes, we can tick that box), but they will be built badly. As a result, few people will use them and they will hence get neglected. And a few years later, in another frenetic burst of activity, they will be rebuilt. We have seen this happen time and time again across the country and there is a high likelihood that this will recur. The attitude of many players – both in the government and in the corporate world – is that we have infrastructure targets to meet and we will meet them. But not many are talking about building them properly. I was introduced to this challenge by Supriya Jaan Sonar of the Right to Pee campaign, where she said we need a change in attitudes to build proper toilets (click here for my earlier blog on 'Intent is important to Bring About Change', where this initiative of CORO also highlighted the gender biases in the toilet situation in India). Samhita Social Ventures, which advises companies on CSR strategies and helps them implement them, has had many companies approach them to build toilets and when they discuss some of the softer issues needed to do it properly, the companies run away. Of course, there are some firms who understand the need to build toilets properly.
Second, we are not doing enough to create a demand for toilets. The precursor to the Swachh Bharat Mission was the Nirmal Bharat Abhiyan. Arghyam, founded by Rohini Nilekani, is working closely with the Karnataka government to build the demand for toilets in rural India. Just building toilets will not mean that people will stop open defecation. The government had reserved 15 percent of the NBA budget for Information, Education and Communication (IEC). Only 5.65 percent of that budget was used in 2012-13! In the recent budget, the allocation for IEC was dropped further, from 15 percent to 8 percent, highlighting the government's fascination for building infrastructure without focusing on creating a demand for this infrastructure. Organisations like Centre of Gravity and Final Mile are working on changing behaviour patterns to create this demand. Dasra, with support from Forbes Marshal, did a study on urban toilets and referred to this problem as the silent killer; in India, more than 1,000 children under the age of five die each day due to diarrhoea caused by lack of sanitation – that is 3,65,000 kids a year! We need to make people realise that building proper toilets actually helps improve their health, and by consequence, their earning ability.
Third, we are not doing enough to build 'proper' toilets. Given the pathetic state of toilets today, it is no wonder that people don't want to use pokey, smelly and filthy cells that masquerade as toilets. A few years ago, my son and I were returning from Purushwadi, a village near Akole (an interesting programme run by Grassroutes Journeys). On the way back, he wanted to go to the toilet and we got off at Thane station. What a disaster that train station toilet was, despite charging people to use it. Many organisations are, therefore, looking at ways to build better toilets, keeping in mind the needs of the local environment. For example, 17000 ft Foundation is building a few toilets in Ladakh for a corporate sponsor. They are working with designers in Ahmedabad to improve on the traditional Ladakhi toilet. A lot more work has to be done in this area to build useable toilets.
Keeping all this in mind, the Social Enterprise Initiative of the University of Chicago Booth School of Business, together with Toilet Hackers and Samhita, is hosting a Convening on Sanitation in Delhi this week to stimulate behaviour change and usage. We are bringing together the government, NGOs, corporate India and academia to see how we can ensure that Swachh Bharat actually delivers what Prime Minster Modi set out to do. We will start off with Prof Richard Thaler of Chicago Booth talking about the need to change behaviour. Thaler wrote the best seller, 'Nudge', a few years ago and set up a 'Nudge Unit' under Britain's Prime Minister David Cameron. We then have a panel to take stock of where we are on Swachh Bharat. This will be followed by detailed sessions of behaviour change, gender issues and building systems.
One of the speakers at the convening is John Kluge. John is committed to improving sanitation across the globe and has set up Toilet Hackers to drive this (I love his title – Co-Founder and Chief Disruption Officer). I recently caught up with him and discussed briefly his four-year journey in this space. He admits it is a tough task across the world and it needs strong partnerships between the government, NGOs, citizens and donors (including corporate) to ensure that sanitation improvement is done in a sustainable manner. Academia also has a large role to play by providing cutting-edge research and analysis. This week's convening on sanitation at the University of Chicago Centre in Delhi aims to achieve precisely this.
Disclosure: I am connected with CORO, Samhita and 17000 ft and studied at the University of Chicago.