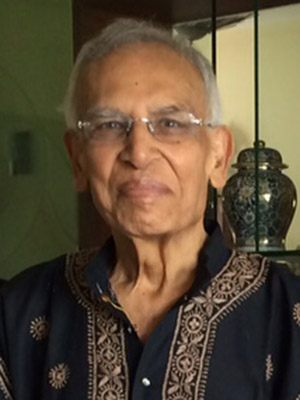 On Saturday morning, my friend and mentor passed away. I am on a family road trip currently where the telecom signals are not great. So, I learnt about Narendra J Jhaveri's passing away only in the evening from his daughter, Manisha, who had tried to call me earlier in the day. I do not write obituaries, but in this case I had to do so because 'Mr Jhaveri', as most of us knew him as, was special. I got to know him in 2003, when Nasser Munjee (who was CEO of IDFC at that time) introduced me to him. I invited him to join the Investment Committee (IC) of our first fund at IDFC Private Equity and he was the longest serving IC member of IDFC Private Equity, right up till today when he breathed his last. I quit the IC in 2011 after leaving IDFC, but Mr Jhaveri carried on.
I remember him always being there when we needed his advice. He would come thoroughly prepared for every IC meeting and would read the entire book before the meeting. He would know what hot buttons to press and at the same time, would not want to belittle us by trying to poke holes in our arguments. He would never strongly push forth a point of view because he wanted us to feel that we were a part of the argument or decision. He taught us the importance of relationships and the importance of working with all parties to move forward. Darius Pandole, who partnered with me to start IDFC Private Equity, wrote to me on hearing the news, "I remember him vividly. He was so humble, knowledgeable and helpful, and a thorough gentleman." Shyam Sundar, who was also a co-founder of IDFC PE, said he learnt a lot from him. Shyam first came into contact with him when Mr Jhaveri was executive chairman of ICICI Securities. Nimesh, the fourth musketeer of our team, said, "He was a good man."
For those of you who did not know Mr Jhaveri, he was a long-time banker at ICICI and rose to be joint managing director. He started his career at the Reserve Bank of India after studying economics at the London School of Economics. He was a banker before bankers made a lot of money from bonuses and stock options. After retiring from banking, he served on the board of many prestigious companies, including Siemens, Indian Aluminium, Hindalco, National Securities & Depositories, Afcons, Voltas, Usha Martin, SKF, Pidilite and Edelweiss. Every large business house wanted him as an advisor. Mr Jhaveri was always keen on helping entrepreneurs grow, especially if they were young. I guess this kept him young also. And he was indeed young in spirit and attitude. I learnt from him how to use the iPad more effectively… how to read magazines and books on it. And how to do so in a cost-effective manner; after all, he would remark, "I am a Gujarati!"
Over the past 13 years, our families got to know each other well. Even after I left IDFC Private Equity I would still meet him regularly, invariably at the Grand Hyatt, on whose board he was. I will miss those meetings with him there. He was so proud of his kids and grand kids. Mr and Mrs Jhaveri loved to travel and they had a group of friends with whom they would travel all over. And he looked forward to his annual summers with his children and grand children.
He was a man of strong principles. When the government of Gujarat insisted that GoG companies contribute a part of their profits to schemes of the government, he quit the board of Gujarat State Petronet because he felt it was not in the interest of minority investors.
A few months ago, I realised I had not spoken to him for a while and called him up. He told me that he had been in hospital and sounded tired. A few weeks later, I went to Ahmedabad with a former colleague, Rupa Vora, to spend one morning with Mr and Mrs Jhaveri. We had a lovely time and a splendid lunch at their home. He took care to ensure that we returned home laden with delicious khakras.
But all of this is not why I am sitting up writing about Mr Jhaveri. Yes, he was a great man. Yes, I often ran to him for valuable advice. Yes, he was very smart. Yes, he was very modest. Yes, I learnt a lot from him. But the main reason I am writing this is because I never came across anyone who had a bad thing to say about him. That is why he stands out tall.
People in the financial world love to drag others down. I have had the good luck to be mentored by people who have been more illustrious than Mr Jhaveri. But there was always someone who would have some axe to grind, some criticism to make, some jealous comment to make. But not Mr Jhaveri. It is amazing that over the thirteen years that I have known him, everyone only had good things to say about him. This is how I will remember him… a good man, who was loved, respected and admired by everyone he came across. I am fortunate to have had him as a mentor.
Mr Jhaveri, rest in peace.