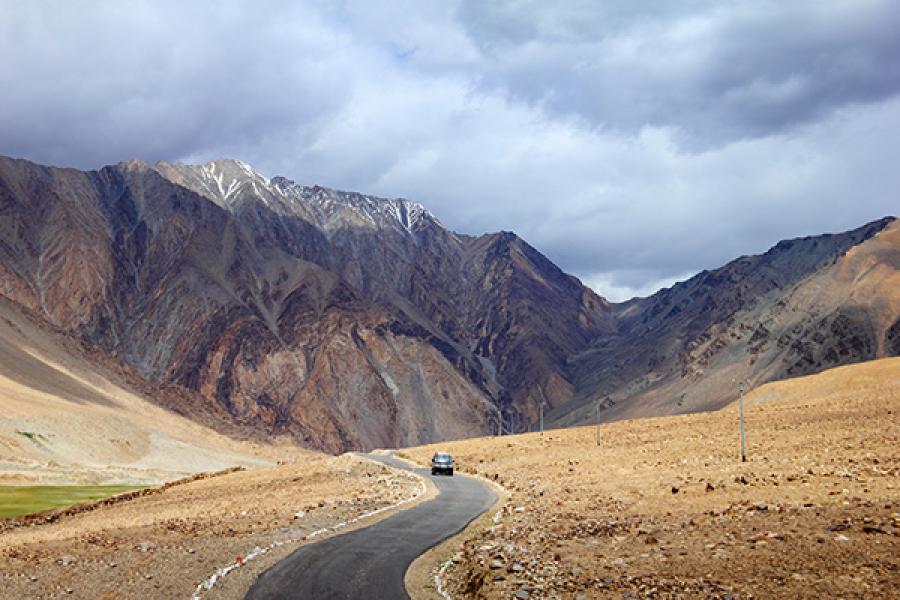 Image: Natalia Davidovich / Shutterstock
Our family recently did a one-month road trip from Mumbai to Leh and back. Before you ask, yes, we still talk to each other after the trip! Our daughter, Mihika, pushed for the road trip and we dropped off our son, Khashiff, in Leh where he spends three months with 17000 ft Foundation. We drove 7,800 km, covering nine states – Maharashtra, Madhya Pradesh, Uttar Pradesh, Rajasthan, Punjab, Jammu & Kashmir, Himachal Pradesh, Haryana and Gujarat. This reminded me of the road trips we took as kids, packed in an Ambassador, where we saw all the temples and hill resorts of South India.
We had amazing roads for most of the trip… the roads in Madhya Pradesh, Rajasthan, Maharashtra and Gujarat stood out. Driving on four-lane highways (sometimes six-lane) was a great pleasure. And I thanked former Prime Minister AB Vajpayee and his team led by Major General Khanduri and the NHAI chairman Deepak Dasgupta. The Golden Quadrilateral (GQ) kick-started the highways revolution in India and is a great example of how enlightened leadership at the top, backed by superior execution (both in the public and private sectors), can create world-class infrastructure in India. There is a lesson here for Prime Minister Narendra Modi as we fix the other sectors in India. The Congress government from 2004-2014 unfortunately blew away the opportunity to build on the GQ success. We paid about Rs 4,000 in tolls, mainly in these four states, and it was worth every rupee. It was great driving on some of the roads we had invested in when I was at IDFC through L&T Infra, Ashoka Buildcon and GMR. The best road was NE-1 between Ahmedabad and Vadodara.
Some roads were bad, especially in Jammu & Kashmir and Himachal Pradesh, but this was because of the heavy snowfall in these states. The Border Roads Organisation (BRO) of the army does amazing work to ensure that the Sonmarg–Leh and Leh–Manali roads are open for half the year. We passed through some mind-blowing terrain in these areas and in some places, we had no roads to drive on. It was pure nirvana driving on our own, even when we were off-road. On some remote stretches in Ladakh, we never came across another person for stretches of over an hour. And driving our Toyota Fortuner 4WD over some of the mountain roads where the BRO had to cut through ice was amazing. We had no puncture on the entire trip.
What did we find painful? Cows all over the highways in Madhya Pradesh and people driving on the wrong side of the road at many places. It was frustrating getting stuck in rush-hour traffic in Sagar with tractors all over the place. Driving at night is not easy-some heroes drive without their headlights on and most truckers do not believe in having rear lights. And truckers and other idiotic drivers drive slowly in the fast lane. A frustrating experience is to be stuck behind two huge trucks struggling to climb a hill and all you can do is patiently wait behind them. This highlights the need for proper training of drivers and proper policing of highways. Roads Minister Nitin Gadkari tried but blames vested interests for not being able to push his reforms through (a flashback to Manmohan Singh's complaint about coalition politics). We got stuck often in Jammu & Kashmir because of migrating sheep and goats… but at least they had a purpose to be on the road; the cows just hung around highways without a purpose. And the Himachal Pradesh tourist car drivers are the worst we came across – no wonder the Supreme Court had to step in to protect the Rohtang Pass. There was only one place we were totally disappointed with – Manali. When we saw a line of cars waiting to enter the old town, we simply decided to skip Manali and found a lovely place on the way to Kulu.
Another great experience was to do with telecommunications, another success story that the Congress government failed to capitalise on. We had mobile connectivity every day, except when we were in remote parts of Ladakh (BSNL is needed there). As a result, we could use Google Maps for our entire trip. The only time we had absolutely no connectivity was when we were in South Ladakh getting to Tso Moriri and then getting back to the highway.
There are other benefits of good telecom technology. We stayed at so many charming small hotels, havelis and guest houses thanks to TripAdvisor and other websites. The internet has clearly helped small entrepreneurs in the tourism industry. And you don't need to carry a whole load of money when you start your trip. ATMs can be found everywhere. State Bank of India had the most number of ATMs in rural India, but most of them did not work. It was a sad reflection on public sector banking since the private sector bank ATMs next door would be working. Our phones were on Vodafone and Airtel, which was helpful as in many places, one of these service providers couldn't connect. We couldn't get data services in a few places in the mountains, but Wi-Fi was available at most places we stayed at.
We left Mumbai on May 25 with a rough idea of our route but with no hotel bookings. As a result, we could explore places that people suggested en route. And these ended up being the highlights of our trip … the Tribal Museum in Bhopal, 10,000-year-old rock paintings in Bhimbetka, admiring the ruins of Orchha while rafting down Betwa River (all thanks to suggestions of our friend Tino DeSa, the chief secretary of Madhya Pradesh), spending time with farmers in Barmer who are being helped by TechnoServe/Cairn, the Golden Temple at 4 am, the sound of the roaring river during the night in Sonmarg and the amazing Chittorgarh Fort (India's largest fort). We stayed at some amazing places, which we discovered driving by or on the internet. These include Orchha's Bundelkhand Riverside, Jodhpur's Ajit Bhavan, Gajner's Palace Hotel, Sonmarg's Ahsan Mountain Resort and Chittorgarh's Padmini Haveli. We were the first guests at Minerva Hotel in Keylong, which was an interesting experience at Rs 1,200 a night. And we ate some exceptional food at roadside dhabas… and at the dhabas of Amritsar… and the thalis at Club Mahindra Jaisalmer, Gajner's Palace Hotel, Jaipur's LMB and Ahmedabad's Agashiye… and delicious fresh trout at the Himalayan Trout Farm. We travelled in temperatures ranging from 45 degree centigrade to minus two. We also spent some time with small farmers and did not see the poverty that the media keeps writing about. These farmers are really happy people.
Our advice to you is it to do the same as we did – explore India by driving yourself. It is the best way to experience India and our changing infrastructure. My wife, Fiona, and I shared the driving and that helps a lot. Mihika pitched in occasionally. Seven thousand and eight hundred kilometres and one month later, we returned home. We never felt unsafe even once on this trip. We never had a problem finding a place to sleep at night. We met some amazing people and heard some amazing stories. This was clearly our best road trip ever. And it left us even more proud of our country, its diversity and its people. India is clearly changing for the better.