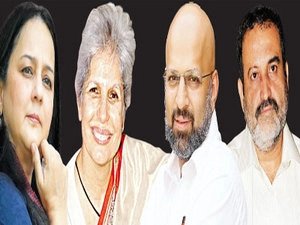 Philanthropist Rohini Nilekani believes mainstream media is weighed down by many handicaps and, therefore, wants to co-create an entirely new media platform primarily funded by donor money. While it's too early to reveal details of the new media entity taking shape, she says, it will be fairly meaningful in size and impact, and not some facile effort at tinkering on the sidelines.
She draws inspiration from the early experiences of a mercurial fellow philanthropist and the humungous potential a digital economy offers. Media is crying to be reinvented for a new age. Billionairephilanthropist Pierre Omidyar, founder of eBay, has recognised this and is first off the block. He has committed $250 million to a radically new media platform, First Look Media, which has in its ranks journalists like Glenn Greenwald, who reported on the Edward Snowden documents. Omidyar pitches First Look as a "model for great journalism, free from financial and political interference".
Nilekani too is keen to craft and support a countervailing voice. "A canary in the mine, warning of approaching complications, whether in the corporate space or in society," she explains. CV Madhukar, co-founder of PRS Legislative Research (PRS) who is now leading Omidyar Network in India is a pivotal actor in the new effort. "We want the media business to be sustainable," he says. "We are keen student- investors, and we want to learn what might work."
Why are Nilekani and Madhukar keen on the media space? It's not a desire to be media moguls of sorts. It stems from an inclination to help alter the governance framework in India. Media is one of the vehicles to achieve this goal. Their thinking, in a way, also signifies a certain maturing of Indian philanthropy, which is now readying to enter the so-called no-go areas.
Improving Governance
"Unless the governance piece is put in place, I don't think we can have an India where we would be happy to live in," says Anu Aga, former chairperson of Thermax and Rajya Sabha member. "We have to stand up and speak out to protect the very fabric of our society, our democracy, the freedoms we so cherish."
Aga is not involved in the media initiative, but has always been a keen votary for reforms in the way India is governed. She was an early supporter of two non-profits: Association for Democratic Reforms (ADR), campaigning for electoral and political reforms, and PRS, which extends independent, non-partisan research support to Parliamentarians and legislators. For Nilekani, who has been working on issues in water and education, the realisation that governance had to be addressed flows from the impediments she has faced even as a do-gooder.
Even putting quality textbooks in the hands of school children has been a frustrating experience for her. "The political economy of the procurement process in education is horrendous," she laments. Breaking out of the verticals, the silos, was inevitable.
Cross-cutting, horizontal issues of governance have to figure on the philanthropy radar for any meaningful change to happen. Nilekani is now willing to channel much of the Rs 164 crore she raised recently by selling her Infosys shares into this space over the next three years. She is already supporting a host of initiatives, including in media, data access and think-tanks. She is not alone.
Luis Miranda, former CEO of IDFC Private Equity, is putting his weight behind think-tanks like the Delhi-based Centre for Civil Society and the Mumbai-based Gateway House. Down south in Bangalore, Kiran Mazumdar-Shaw of Biocon and TV Mohandas Pai, former director of Infosys, have jumped into the rough-and-tumble of the street-level political process itself through the Bangalore Political Action Committee (B.PAC).
The duo is endeavouring to dispel the notion that politics is dirty and is luring the moaning-andgroaning-but-will-not-act-or-vote types to engage with the political process at various levels. B.PAC even trains debutantes or potential politicians, and hopes to see 10-20% of city-level elected leaders coming from this stock in the near future. "Those who have made money have to reinvest in democracy," says Pai.
Winning Over Stakeholders
Very few are doing it. Not many philanthropists are keen on pursuing and funding governance, transparency and accountability initiatives. It's inexplicable in some ways for these are the very people who, as industry captains, CEOs, investors and professionals, bemoan the system, the corruption, the irresponsive nature of government.
The process of creating accountable governance can be long and tortuous. It also means challenging the might of the state. Working on governance is therefore political in many ways. How many in corporate India would want to be on the wrong side of the government?
A backlash would mean hurting shareholder interests. "We have to go beyond company interests and do what is good for the country," insists Aga. "This internal fear has to be overcome." She would like Indian industry to do what has to be done irrespective of the burden of consequences.
Again, industry leaders fail to look at the long-term and forget that companies cannot thrive in a society that is in turmoil. The quarterly results approach, according to Aga, has enfeebled CEOs in many ways. It's not that businessmen-philanthropists don't engage with the government. They do go to governments for approvals, licenses, and tax breaks. "Why then the hesitation to help set right governance?" asks Madhukar. Philanthropists are well connected and if they do decide to bear their collective weight on an issue, the needle can move.
Corporate Governance
Madhukar feels that working on governance need not be confrontational and that "safe places" or safe issues can be looked at, to start with. The Omidyar Network, for instance, would like to publish an annual 'state of the judiciary' report, just like the annual status of education report (ASER), that can use publicly available data to shed light on judicial delays, types of cases in courts, the functioning of various tribunals and fast–track courts.
Using shareholder interests as an excuse for inaction is increasingly getting untenable. A view that is gaining currency is that corporates ought to help create responsible investors and align shareholders to the values that the company or the promoters believe in. Paul Polman, CEO of Unilever, has shown the world how Wall Street can be tamed and aligned with the long-term goals of a company, and society. This also means that businessmen or philanthropists who seek openness and accountability in government have to start with spring cleaning their homes first. "We cannot point fingers at the government, when companies are not serious about corporate governance," says Aga.
What really pains her, although she concedes there are many good leaders in business, is the hypocrisy she often witnesses in business fora. "This facade of honesty is worse than being openly dishonest," she says.
US academic Jonathan Fox who has studied the relationship between citizen participation, transparency and accountability describes a situation of "opaque transparency" by states and also corporations.
These are in the tick-box genre: cosmetic openness gestures, which are not connected to any hard accountability. It leads nowhere.
Data And Information However, international trends indicate the governance agenda is moving ahead like never before, even propelling India to recently build www.data.gov.in, a platform that encourages Union and even state ministries to put out data sets in the public interest. This open government data (OGD) platform is a joint effort with the US government.
The Indian data initiative, still in its early days, heralds the emerging open society, which found form and voice in the Right to Information (RTI) laws. Another philanthropist, NR Narayana Murthy, Infosys cofounder, had funded RTI awareness campaigns in its early years. Rohini Nilekani, over the years, has been accessing and scrubbing dollops of data in water and sanitation to guide her interventions. She also supports IndiaSpend a data journalism initiative. "Data is a crucial element in good governance," she says.
As economies and societies turn more knowledge-based, data is expected to take on hues of a 'core asset', driving growth and change even as concerns over privacy safeguards come into play.
The Open Data Barometer of the Open Data Research Network, a global alliance, indicates that India, ranked 34 of 77 countries studied last year, has a long way to go in terms of putting in place levers of an open society (See graphic: India Has a Long Way to Go in Open Data). UK is the most transparent economy. And for a reason. A new UK law, for instance, mandates London Stock Exchange-listed oil & gas, and mining companies, to report publicly on all their payments to governments: by company, country and project, from January 2015.
By comparison, India is a laggard, even though numerous scams have hit the extractive sector in recent years. An OGD study in the extractive sector by TERI this July indicates that key data on block-wise revenues from oil and gas fields, payments and profit petroleum made by each company are just not available.
While transparency and disclosure is a desirable, it is also recognised that it will not lead to accountability by itself. The social groundwork for accountability has to be laid and a facilitating ecosystem has to emerge. Rohini Nilekani argues for a more vigorous civil society engagement with government at all levels. While expectations of philanthropy have to be realistic, fact is, wealthy philanthropists can play a stellar role in repairing democracy.