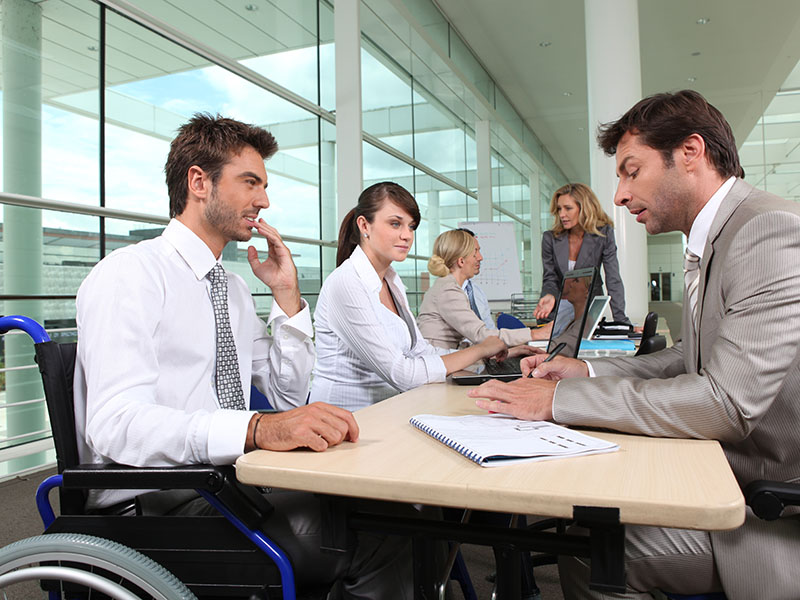 "What is normal?" my wife Fiona asked me this question when I was discussing this blog with her. One of the organisations I am involved with is Youth4Jobs, an NGO which trains and places persons with disabilities (PWDs) in 'normal' jobs. This blog is about what I have learnt from them.
We are extremely fortunate that Fiona and I have no major physical or intellectual disability. Neither do our children. After spending time with Youth4Jobs, I learnt to appreciate this even more. I was uncomfortable when I spent time with the students and teachers. Do I really understand what they are experiencing? What do I talk about with a 20 year old who cannot see? Do I sound condescending when I talk to them? What do I refer to them as… do I call them differently-abled, to be politically correct? The last one was easy to address: The UN has referred to them as 'Persons With Disabilities' or PWDs. The other questions were a lot more difficult to handle, especially when I was told that PWDs want to be treated like normal people. Hence the question: "What is normal?"
A few weeks ago, I spent a day with Youth4Jobs in Hyderabad. Over the past five years, they have trained over 10,000 PWDs and placed over 8,000 of them in regular corporate jobs. Many of them are women and from rural areas. They have also trained over 5,000 corporate managers on how to work with PWDs. I've been an advisor to them for some time and co-founders Meera Shenoy and Tapan Das had been after me for a long time to visit their centre in Hyderabad. A few days back, I was in Bengaluru for the opening of their 20th centre, thanks to the support of SBI Foundation.
These two events made me realise how lucky I am. When I heard the students and their teachers tell me about their stories in such a cheerful manner, I wonder how people without disabilities can whine so much.
Take for example Raghava who is hearing impaired. He teaches those with a similar disability. His biggest kick is when he narrates the success stories of his students–one of them who wanted to work in a brand factory. After waiting for six months, that student got a job in a brand factory and has since enjoyed working there. Or how he placed the first hearing impaired person in the offshoring outfit of a US-based financial services giant.
And then there was Shiva, who is visually impaired. His typing speed is faster than mine and he trains students in computers and English and helps them with interview skills. He wanted to work at Youth4Jobs because there was no one to help him with his disability when he was a kid. He learnt English the hard way in West Godavari and speaks it with such ease today. He told me how technology has advanced so much from the bulky Braille. Today he teaches English on Skype; remember that he cannot see. His parents are farmers and not educated. Despite this, Shiva has done his MA in English and also completed three different post-graduation diplomas. And he is only 28. All I could say to myself is that I have rarely seen such benevolence before.
Youth4Jobs has placed their students in companies like Valeo, Google, Schneider, Amazon, Lifestyle, Synchrony Financial, HyperCity and KFC. In many companies, the HR staff is not keen on employing PWDs because they are concerned about career progression limitations for them. They should learn from the experience at Valeo, where three PWDs were selected as 'Employee of the Month' and moved on to different positions in the company because of their proficiency. Some organisations recruit PWDs and then treat them with kid gloves and don't give them real jobs (I saw this at Central Bank of India where a visually impaired staff member spent her time reading Braille while her colleagues did her work). This is wrong. PWDs want to be treated like others and do not want charity.
Youth4Jobs believe in three values: (1) Believe in the potential of the poor (2) Believe in transparency and the role of technology and (3) Giving one job to a PWD can take the whole family out of poverty.
The students at Youth4Jobs are amazing. They are confident and challenged me with questions like "Why have you come here?" and "Who are you?"
I met Monica who types at a speed of 20 words per minute despite being visually impaired. She wants to work in a BPO. I also met a young lady who is hearing impaired and wants to be a beautician; her fiancé, who is also a PWD, brings her to the centre daily for training.
Youth4Jobs exploded three old myths about PWDs. First, PWDs can't get regular jobs. Second, the rural disabled aren't employable. Third, disabled women can't be employable. I was told about Kiran Maurya who is blind and now works at DMart. He supports his whole family. The work of Youth4Jobs is truly about empowerment and not just about jobs.
I met with a manager at Synchrony Financial, who have recruited over 75 PWDs, and learnt about the importance of sensitisation training within the company before PWDs get on board. The HR team has done a great job engaging with the managers of the company and the role of the CEO and the HR team can't be underestimated in the on-boarding process. At every town hall meeting, there is a sign language interpreter. By this month, they would have held their first networking meeting where everyone would be communicating in sign language, PWDs and non-PWDs. They treat PWDs like any other person because they believe that if you treated them specially, they would feel odd. No PWD has yet been let go for poor performance. This company clearly believes in diversity.
What are the advantages of recruiting PWDs? Good performance, low attrition, accessing a different talent pool, higher morale of the rest of the team (they also learn to be more empathetic) and customers love it. The hearing impaired are great cashiers at Lifestyle. The visually impaired have amazing memories.
At the launch of the Bengaluru centre, NS Raghavan (co-founder of Infosys) was the chief guest. In 2001, he started FAME to help those with intellectual disabilities and is now working on creating new models of sustainable livelihood for them.
We are now exploring how PWDs can be employed by banks and insurance companies, not just in back-office roles, but in front-office positions. We are talking to a few potential partners and hope we can get a pilot started soon.
As I left the Bengaluru centre, an image lingered… of a charming and cheerful lady, Alaina Aisha. She is visually impaired and I realised it only after talking to her for a couple of minutes. Today she runs the centre. This is empowerment. Fiona's question continues to haunt me… "What is normal?"