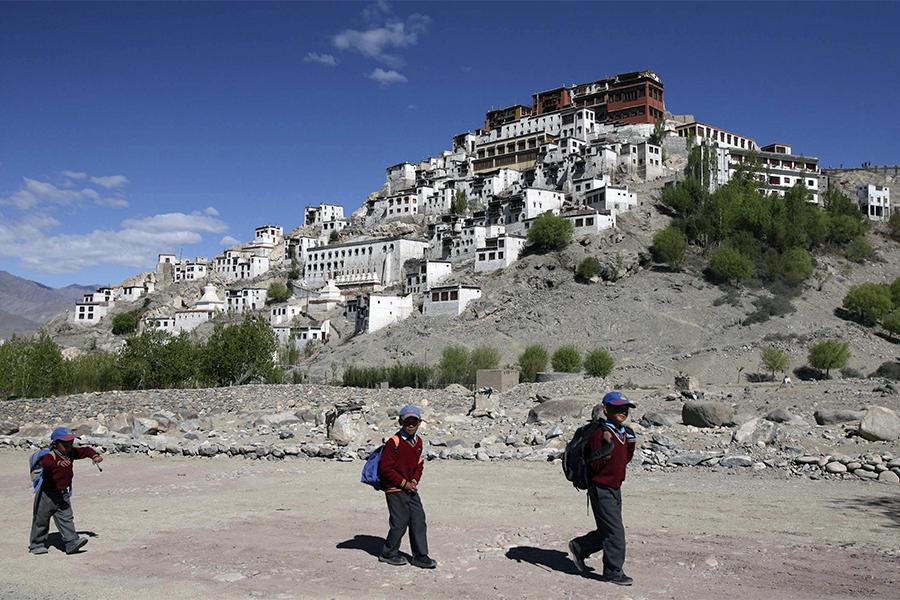 "Why do Fiona and you work in the Northeast and Ladakh?" My wife and I are often asked this question because of our involvement with Sunbird Trust and 17000 Ft Foundation. Our response has been the same over the years, "Because no one cares for them." They are the invisibles of India. Why should people care? Because these people live in sensitive border areas of our country; if these kids don't get a proper education or if livelihood options are limited, the young invisibles there could become militants or desert their villages and we would have more challenges within and along our borders. We started looking at these far, remote and neglected places to work in purely by accident. There are many more remote and neglected places in India that are not so far away which also need help. India has a lot of invisibles.
I visited Manipur and Nagaland for the first time in 2013 with my school buddy Col Chris Rego. He decided to sponsor kids to go to school there. I asked him how he is planning on improving the quality of education there and he said let's first focus on creating access to education. Today, Sunbird Trust sponsors over 600 children to go to school in Manipur, Assam and Nagaland. We work with 11 schools and in some of them, we also build school buildings and dormitories. We work with various tribes and religions. Fiona and I recently spent a week in remote parts of Manipur. One of the villages, Ijeirong, is so remote that Google Maps can't show a route to that village. The Paankriang Friendship School in that village has 470 students, including 240 boarders. Four years ago, there was no school there. We had a session with 156 parents, some who had walked for three hours to meet us. They were so thankful for what Sunbird is doing at that school. Of course, we have so much more to do at there, but it shows the impact of what a little capital can have on a poor community in the middle of the Manipur forests. Amos Inka, one of the co-founders of the school and a Naga Inpui, told me that without Sunbird Trust, the school would not have survived. Last year, there was an earthquake in the area and one entire village had to relocate. There was no school for them and Paankriang School added around 80 kids to their hostel because of the reputation of the school.
Sem Haokip, a friend from the Kuki tribe, told me a couple of years back that for the first time he is seeing people from the rest of India care for them. We also get help from the Assam Rifles and the Army. The president of one of the Naga tribes recently told me that after seeing the Assam Rifles help build a part of their school, the children are not scared of them anymore. At another school, the Brigadier had visited them twice and the Army is now seen as a friend. These people live in a conflict zone. Chris Rego recently was awarded an Ashoka Fellowship for his efforts to bring peace to this part of the country through the work we do at these schools with the invisibles.
I discussed this with Lt Gen Shokin Chauhan, Director General of the Assam Rifles. He said people are the centre of gravity in an insurgency and we therefore have to carry them along if we want peace. He wants to reinforce the view of the Assam Rifles as a force that exists to assist the people of the Northeast. Of course, they will continue to fight the insurgents and to help the Army, but they are the custodians of peace and have to be friends of the people in the hills. Attitudes are changing in this part of the world slowly.
Fiona recently spent time with government schools on the Line of Control in Kargil working with 17000 Ft. Muslims living on the border told her, "We are Indians first." General Chauhan, who was posted earlier in Kargil, strongly believes that villagers in most parts of Jammu & Kashmir do not like the terrorists and that people are targeted by them if they do not throw stones. Realising the importance of showing them that we trust them, one of the terrorists who had surrendered was treated as a close confidant by him there; and what this former terrorist wanted the most was to get his daughter educated. Parents everywhere, including those of the invisibles, have the same aspiration of a better life for their kids.
We also spent some time with Carmo Noronha of Bethany Society, which works with persons with disabilities (PwD) in 600 villages in Meghalaya. They also have a residential school for 240 kids (with 100 boarders, all of whom are PWDs) and a large vocational training centre in Shillong. They struggle to get funding to pay for salaries and income from the government has not reached them for two years. The passion among the teachers and students was amazing. There are many PWDs among the invisibles, who are even more invisible.
But some people like Narayana Murthy, co-founder of Infosys, are sceptical. When I met him recently, he said every government has poured lots of money into the Northeast but there has not been any real improvement in the lives of the people there. He believes that the Army and the NGOs are not that crucial for bringing in change, and that it is the central and state governments that have to improve their governance. Vinod Rai, the former Comptroller & Auditor General of India (CAG), told me many years back that Manipur and Nagaland were among the most corrupt states in India, based on the qualifications in state CAG reports. Militants still run riot and extort money, even from government affiliates. But there is some semblance of peace today in the region because of the 'Suspension of Operation' (SOO) since 2005, though Manipur still sees occasional attacks and long strikes because tension still exists between the Kukis, Meiteis and Nagas. Also thanks to the SOO, while there is relative peace, militants in camps still need to fund their expenses since they haven't been mainstreamed yet, and extortion therefore continues. Prime Minister Narendra Modi appears to be more focussed on improving the situation in these seven states and young people like Rajat Sethi, advisor to the Manipur chief minister, seem to be eager to make change.
I see a change for the positive taking place, despite what the media tells us. Of course there will be setbacks because there are many vested interests who want to continue the conflict so that they stay relevant. In the meantime, a lot of our tax money gets eaten up by corrupt schemes and people and the militants. While the dividend of peace (fewer kids becoming militants and more kids going to school) becomes more visible, we cannot leave it just to the government to bring in this peace. Local communities, Assam Rifles and the police also have to play a large role. These local communities need our support–both financial and non-financial. Otherwise the peace process could slip backwards and more people will die. And this is why donors and NGOs should pay more attention to the invisibles in the Northeast and J&K.